Nepal Project
Project Overview
Volunteer in Nepal
Schedule
Other Recommendations
Rotation Calendar
Nepal Faculty Volunteer Expression of Interest Form
Project Overview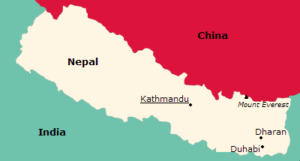 FIUGA focuses on addressing unmet medical training needs across the globe. With its newest project in Nepal, FIUGA will train local pelvic surgeons in the management of urogynecologic problems such as genital prolapse and urinary incontinence. It is a huge unmet need in the area, as Nepalese women have the highest reported incidence of genital prolapse in the world. Helping train local surgeons will do much to help reduce this national public health problem. It is also FIUGA's goal to enhance the recognition of the unique predisposing factors as well as cultural and social behaviors that lead to this high incidence. This may be helpful in prevention of pelvic floor problems not only in Nepal, but across the world.

The fellowship program has a formal curriculum based on the RCOG curriculum and will include visits from international surgical faculty and a remote lecture series. Clinical education will include training in assessment of pelvic floor problems, urodynamics, cystoscopy and the various management modalities available for women suffering from these problems.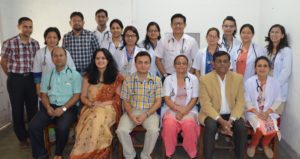 The program is hosted by B.P. Koirala Institute of Health Sciences in Dharan, in eastern Nepal. This institute is recognized as a major medical education center in Nepal and serves as a referral center for regional and national patients. It already hosts an OBGYN residency program and fistula center, as well as a nursing school and all resources needed for an academic clinical program.
Fellowship Program Director: Dr. Mohan Chandra  Regmi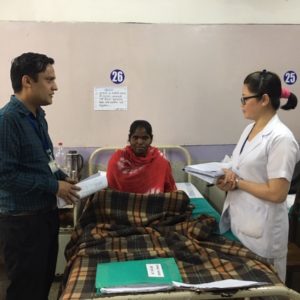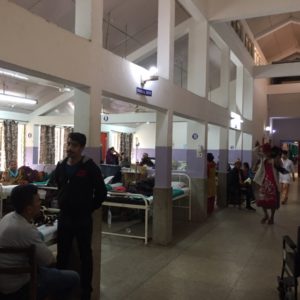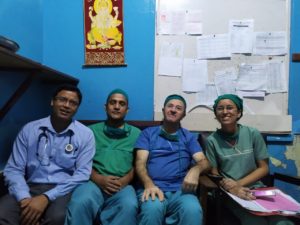 Volunteer in Nepal
The curriculum includes instruction by visiting international faculty. Volunteer faculty pay their own travel expenses and must be able to commit to a 1-week rotation that runs from Sunday – Friday. Volunteers dedicate their time on-site to the training and education of the fellows and to patient care.
The ideal volunteer faculty candidates meet the following criteria:
Have at least 5 years of post-fellowship surgical experience (or practice time solely dedicated to urogynecology).
Can provide 2-3 lectures on the topic(s) scheduled for the week of the rotation (see rotation calendar below).
Have experience teaching fellows and residents. Volunteers are there to teach and train fellows; it is not the intent for the volunteer to perform all of the surgeries.
Have significant experience in vaginal and/or open pelvic surgery and management of associated complications; laparoscopic equipment is not appropriate for advanced laparoscopic techniques.
Be comfortable living in a developing world environment (faculty housing is basic with good food provided, but no hot water or TV, and internet is variable).
Be fluent in spoken and written English.
Have no personal health issues that would pose a risk while in Nepal.
Previous exposure to a clinical/surgical environment in a developing country is desirable but not required.
Schedule
In Nepal, Sunday is a full working day, with Friday afternoon and Saturday off. Arrival by Saturday is thus required. This requires arrival in Kathmandu by early Saturday afternoon in order to catch a flight to Biratnigar (30-minute flight). [TIP: Sit on the left side – seat A – of the plane – Buddha Air). Otherwise, arrival Friday night will be required to catch a Saturday morning flight to Biratnigar. Departure Friday mid-afternoon (not earlier) is desirable. There are many late evening flights out of Kathmandu.
Volunteers will need to coordinate their arrival schedule with the Program Director (Mohan Regmi). The Institute will send a driver to pick up volunteer faculty at the airport. It is a 45-minute drive from the airport in Biratnigar to Dharan.
Other Recommendations
Visiting faculty are encouraged to bring their own scrubs, double bed sheets, towels, pillow(s), shampoo, personal necessities, etc. There are many small stores close to the Institute.
Rotation Calendar
January 3-8, 2021: Fistulae 
February 7-12, 2021: Surgical Complications
March 7-12, 2021: Fecal Incontinence
April 4-9, 2021: Stress Incontinence
May 2-7, 2021: Imaging in Urogynecology
June 6-11, 2021: Voiding Dysfunction/Retention
September 5-10, 2021: Non-surgical Management (FILLED)
October 3-8, 2021: Urodynamic Testing
November 7-12, 2021: TBD
December 5-10, 2021: TBD
Nepal Faculty Volunteer Expression of Interest Form
If you are interested in volunteering in Nepal, please complete the Nepal Faculty Volunteer Expression of Interest Form.