FIUGA Fun Walk/Run for Pelvic Floor Disorders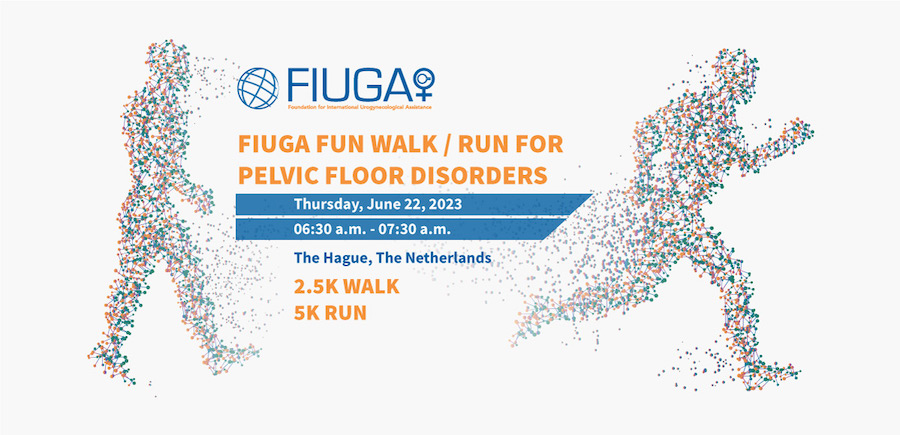 Join us for our annual Fun Walk/Run as we raise awareness of pelvic floor disorders, and funding to support the work of the Foundation for International Urogynecological Assistance. Sign up for this fun event when you register for the 2023 IUGA Annual Meeting.
You can choose to participate in several ways:
2.5k Walker
5k Runner
Sleep In Supporter
Walkers and runners are encouraged to have their friends and family sponsor their participation by making a donation to FIUGA in the walker or runner's name (see instructions below). Sleep In Supporters pledge their support with their registration fee for the event…and then simply sleep in on Thursday morning!
Sponsors & Donations
As non-profit foundations, we rely on donations to operate our education and research programs. With a little support from a lot of participants, we can make a big impact! Donations made in support of our walkers and runners will support international fellowships and grant programs.
We hope you will be part of this movement by not only participating in this year's event, but by becoming a FIUGA Fundraiser. In only takes about 5 minutes to create a personalized donation page. Once created, you can share your donation page with friends, family, colleagues – even grateful patients who want to make sure other women can get the treatment they need – and ask them to support your participation in the Foundation Fun Walk/Run with a small donation.
To create your individual fundraiser donation page:
Enter your individual fundraiser name (First and Last Name).
Enter your fundraising goal – think big! You can opt to show a goal thermometer showing progress toward your fundraising goal, and a scrolling list of your donors.
Create your custom fundraiser URL simply by adding your name after the /.
Enter a personal message. This message will be displayed on your personal fundraising page and let your sponsors know why you are participating and raising funds for this cause. Although optional, this helps your donors understand why you are asking for their support.
Upload your picture to further personalize your individual fundraiser page (optional).
If you have questions, please contact us at info@fiuga.org.