2020 VIRTUAL FIUGA FUN WALK/RUN FOR NEPAL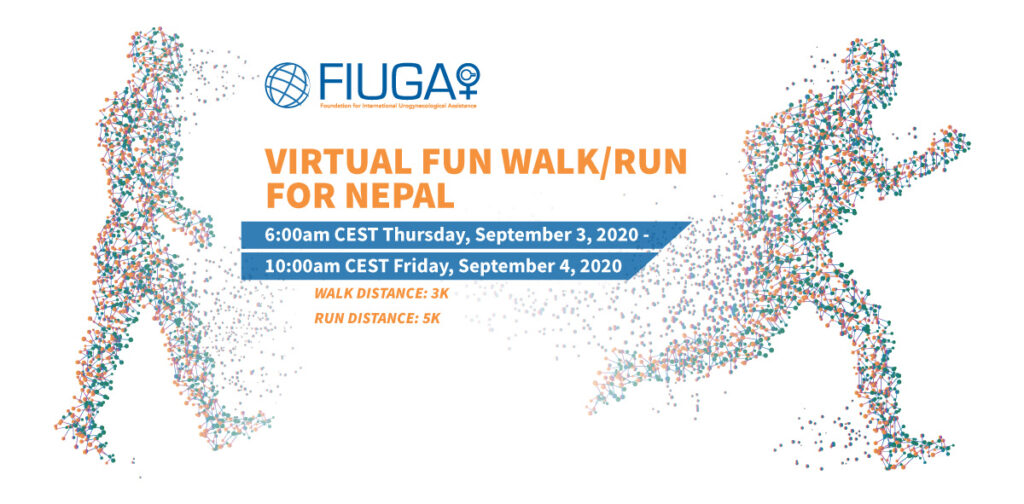 Join Us!
It's easy!
Choose to do a 3km walk (1.86 miles) or a 5k run (3.10 miles). You can even opt for a shorter or longer distance if you wish!
Plan out your course (we will email registrants tips for planning your route).
Complete your walk/run anytime between 6:00am CEST Thursday, September 3 – 10:00am CEST Friday, September 4, 2020. See what time this is in your location HERE. If you cannot possibly complete your walk/run during this time frame, you can still participate since it is a virtual event!
Take a selfie and share it with us as well as on you social media with the hashtag #FIUGAVirtualRace. We'll be sharing images to the IUGA social media sites so participants can all see one another! Be sure you are following @iugaoffice!
Supporting Prolapse Care in Nepal
This year's event will raise funds to cover surgical care – including time away from home and work to ensure a full recovery – for women suffering from prolapse in Eastern Nepal. Many of the women treated at B.P. Koirala Institute of Health Sciences in Dharan travel great distances from rural areas – by foot just to get to a road where they can hopefully travel by car or motorbike – to receive treatment through the FIUGA-supported urogynecology program. USD$285 will cover surgery and recovery for one woman.
Register
Since 100% of the proceeds from this event will go to our International Assistance Program in Dharan, Nepal, this year we are leaving the entry fee amount up to you! We recommend a minimum entry fee of 20€, but you can select any amount!
There are two easy ways to register for the 2020 Virtual FIUGA Fun Walk/Run:
Register directly through the FIUGA donation website (link below). To properly apply your entry fee to the International Assistance Program in Nepal, make sure to select the "Fun Walk/Fun Run" in the Program Donation section.
Register via the online meeting form (link below) when you register for the IUGA 2020 Virtual Annual Meeting.
Register via FIUGA
Meeting Registration
Do More!
As a non-profit foundation, we rely solely on donations to operate our International Assistance Programs. With a little help from a lot of participants, we can make a big impact!
We hope you will be part of this movement by not only participating in this year's event, but by becoming a FIUGA Fundraiser. In only takes about 5 minutes to create a personalized donation page (see instructions below). Once created, share your donation page with your friends, family, colleagues – even grateful patients who want to make sure other women can get the treatment they need – and ask them to support your participation in the FIUGA Fun Walk/Run with a small donation.
To create your individual fundraiser donation page:
Visit this site and click on "Become a Fundraiser."
Enter your fundraiser name (First and Last Name).
Enter your fundraising goal – think big! You can opt to show a goal thermometer showing progress toward your fundraising goal, and a scrolling list of your donors. Remember, just USD$285 will cover surgery and recovery for one woman.
Create your custom fundraiser URL simply by adding your name after the /.
Enter a personal message. This will display on your personal fundraising page and let your donors know why you are participating and raising funds to support this cause. Although optional, this helps your donors understand why you are asking for their support.
Upload your picture to further personalize your individual fundraiser page (optional).
If you have questions, please contact us at info@fiuga.org.